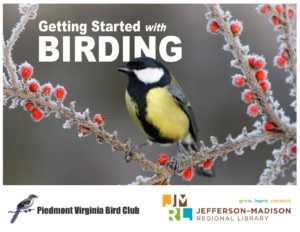 Club member Caroline Bertrand will cover the basics of birding for anyone interested in this life-enriching recreational activity. Learn how to get started, where to go, how to recognize common birds by sight or sound, useful apps, and the basics of migration.
Caroline's talk will be hosted by the Jefferson-Madison Regional Library. It is scheduled for March 8 at 7 PM.
This virtual program can be accessed both by Zoom online and by a toll-free phone number. Sign up at www.jmrl.org or call 434.973.7893 x3.