Date/Time
Sunday, Mar 22, 2020
8:00 am - 9:30 am
Location
Education Building at Ivy Creek Natural Area

Field Trip Leader: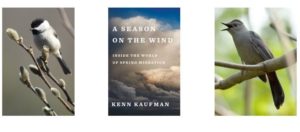 Bird Walk at Ivy Creek with Kenn Kaufman
Sun. March 22, 8:00 AM – 9:30 AM
1776 Earlysville Road, Earlysville, VA 22936
MBC and the Ivy Creek Foundation have worked together with the Virginia Festival of the Book to host this event! See other great events at the festival at this link https://www.vabook.org/program/bird-walk-with-kenn-kaufman/
Hosted by: Monticello Bird Club and Ivy Creek Foundation
Join Kenn Kaufman (A Season on the Wind: Inside the World of Spring Migration), local bird groups, and other bird enthusiasts for a guided bird walk in the Ivy Creek Natural Area. Rain or shine. FREE to attend and open to the public. Please note: A limited number of loaner binoculars will be available, but if you have your own, please bring them. Due to limited parking, carpooling is recommended. (No book sales at this event.)
Why should you attend?
Seize this opportunity for people of all ages to explore the beautiful habitat of the Ivy Creek Natural Area in company of local birders, and guided by the expert eye of internationally-recognized lifelong birder and naturalist Kenn Kaufman.
"Seamlessly weaving together natural history with personal narrative, Kaufman reveals how an appreciation of birds not only helps build community and conserve land, but also can make life a great deal richer for each of us. The more he uncovers the fascinating lives and migratory feats of birds, the more wonder and magic he lays bare; by the end, his sense of awe has become our own. A Season on the Wind will transform the way we see birds and the season of spring!" —Melissa Groo, wildlife photographer and conservationist
"In A Season on the Wind, Kenn Kaufman soars above his Ohio home place and artfully shares the world of birds and the miraculous feats of migration that persist amidst constant conservation struggles and hard-won successes. It's a wondrous compendium of stories about birds and humans that compels us to be more in nature and work ever harder to protect it. The message within to love and conserve is as clear as a Swainson's thrush's flight call in a spring night sky. What A Season on the Wind does is so much more than inform, it inspires." —J. Drew Lanham, author of The Home Place
Moderator: Guy Babineau
Categories