Date/Time
Saturday, Mar 09, 2019
8:00 am
Location
In front of Jimmy John's, east end of Pantops Shopping Center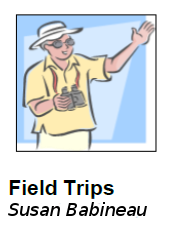 Field Trip Leader: John Holden
Pre-trip RSVP is required. See below.
On Saturday, March 9, we will meet at 8am and carpool from in front of Jimmy John's in Pantops Shopping Center. Expect a drive of about 1 3/4 hours.
The Marsh is a Nature Conservancy site and preserves a beautiful and pristine tidal marsh, along with a forest of abundant tall pines, mountain laurel and American holly. There is also edge habitat along fields (great for raptors). We will walk on trails along Holts Creek and also along a small tributary valley that offers an abundance of warblers, Cedar Waxwings, and other songbirds, often seen at treetop level. Eagles sitting in the tall pines are a common sight, and the trip is timed to pass under an active eagle nest.
Expect to walk about 2 miles on generally level terrain. Overlooking the marsh is an observation platform that we will visit at the beginning and the end of our walk. Please bring lunch, a daypack with snacks and water, and dress for late winter.
RSVP to [email protected] ASAP if you are interested in this trip. This is a new field trip and we want to gauge the interest level. Driving directions and expected weather will be sent out just prior to the trip to those that have signed up with Leader John Holden.
Categories