Date/Time
Saturday, May 18, 2019
6:30 am
Location
Starbucks Hollymead (far end of parking lot)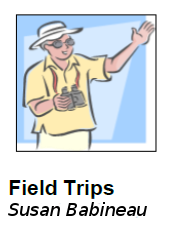 Field Trip Leader: Joe Coppock
Joe will lead our walk at this favorite spot for hearing and viewing spring migrants and returning residents including Warblers, Vireos, Flycatchers and more. Parking is limited at Pocosin Cabin, which is in Shenandoah National Park, so carpooling from the main meeting location is suggested. However, if you would prefer to meet the group at Pocosin Cabin, please be there at 7:30 am. Rainy weather will postpone the trip to the following day 5/19/19 at the same time.
Directions to Pocosin:
Driving time from Starbucks Hollymead on 29 North is about 45 minutes. The best way to go is Route 29 North to Ruckersville. Turn left onto Route 33 and take it to Skyline Drive. (You'll be entering at milepost 65.5) and turn left, heading North. As soon as you reach milepost 60 (about a 14-minute drive from the entrance), watch for the unmarked fire road on your right (as the Drive makes a gentle rightward swing). Turn in and park in the pull-off ahead and to the left.
Categories