Map Unavailable
Date/Time
Wednesday, May 06, 2020
7:00 pm - 8:15 pm

The zoom link was emailed to all club members last week and is on the Facebook event. We are not able to place it here for security reasons. Email [email protected] if you still need the link.
Join us for a multimedia virtual talk by New York Times-bestselling author Jennifer Ackerman, who will be speaking about her new book, The Bird Way: A New Look at How Birds Talk, Work, Play, Parent, and Think. In the book, Ackerman offers a lively distillation of the latest findings in bird science that are dramatically shifting our understanding of how birds live and think. We meet birds that give gifts and birds that steal, birds that dance or drum, birds that paint their bowers and paint themselves, bird that build walls of sound to keep out intruders and birds that summon playmates with a special call—which may hold the secret to our own penchant for playfulness and the evolution of human laughter. The talk will include photographs and audio recordings by professionals and will draw on Ackerman's field observations and research from around the world, from the tropical rainforests of eastern Australia and the remote woodlands of Hokkaido, to the rolling hills of lower Austria and the islands of Alaska's Kachemak Bay. Everywhere, Ackerman investigates the odd ducks—and seabirds, hawks, cuckoos, corvids, wrens, and vultures—whose novel behavior reveals the striking cleverness and ingenuity to be found in the avian world.
In a starred review, Kirkus Reviews calls The Bird Way "a brightly original book… Ackerman is a smooth writer; her presentation of ideas is deft, and her anecdotes are consistently engaging… [She] demonstrates bird science as an evolving discipline that is consistently fascinating."
Jennifer Ackerman is the author of the New York Times bestseller The Genius of Birds, now published in 20 languages, as well as seven other books. She has published articles and essays in National Geographic, The New York Times Magazine, Natural History, The Wall Street Journal, Birding, and many other publications.
You can order books, including signed and inscribed copies, from New Dominion Bookshop in Charlottesville using this email: [email protected] The book is also available online through bookshop.org, an initiative that donates money to independent bookstores from sales: https://bookshop.org/books/the-bird-way-a-new-look-at-how-birds-talk-work-play-parent-and-think/9780735223011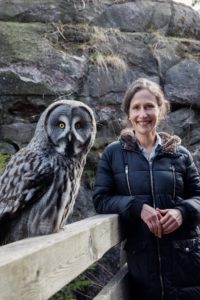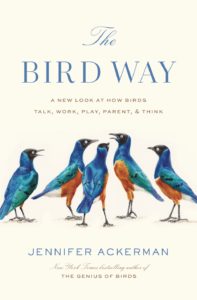 Categories