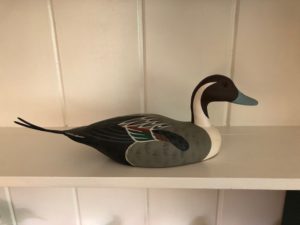 A member has generously donated a set of duck decoys to the club to use as a fund-raiser. Monticello Bird Club is a 501C(3) organization. Our club supports education outreach, conservation, and other activities related to our interest in birding and birdwatching.
Purchased items must be picked by the winners at a Charlottesville address (which will be provided to the winning bidders). No shipping.
These ducks were carved on the eastern shore of Virginia and purchased there in the 80s. The Hornick duck carvings are well known and are coveted collectibles as shown by sales on eBay.
These decoys are perfect for display and for reminding you of the pleasure of seeing these ducks.
The auction will run from July 24 to August 1 at 6PM.
You can bid on the decoys at the link below. You will need to create an account before you can participate in the auction.