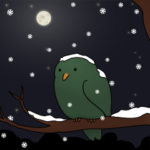 Annually, the Charlottesville Christmas Bird Count (CCBC) joins tens of thousands of other volunteers around the country who, from December 14 to January 5, count the number of individuals of each species they observe on one day during that period. The day can begin before dawn and continue until dark. The nation wide CBC, run by the National Audubon Society, began in 1900.
All levels of birders, from beginners to professional scientists, participate in the count. These citizen scientists are taking action for conservation. The CBC has evolved to become a hugely important pool of data for researchers studying the ongoing status and ranges of bird populations across the Americas. The only other similar yardstick is the Breeding Bird Survey (BBS), run during June in the breeding season. The co-analyses of CBC and BBS have become the combined yardstick by which ornithologists and conservation biologists assess how bird populations are doing – and where they are occurring – across the Americas. (From the National Audubon Society CBC website)
Each count occurs in a designated circle 15 miles in diameter, and is organized by a "compiler" who is Jenny Gaden for the Charlottesville CBC. Those interested in participating should contact Jenny (434-293-6275; [email protected]). Everyone is welcome – newcomers, inexperienced or experienced birders. All will join one of the already-established teams, or, if the individual is an experienced birder, he or she may initiate a new route. Participants should be prepared for the weather; if it's cold bring hand and foot warmers, snacks, lunch, and hot drinks and/or water. If it is raining, dress accordingly. Because Sunday hunting is now permitted in Virginia, we strongly advise all participants to wear blaze orange. By all means, bring a camera to support your case, should you spot a rare bird.